NFC West Standings
Rams 0-0
Seahawks 0-0
49ers 0-0
Cardinals 0-0
Preseason Schedule
W1 @ Minnesota
W2 vs San Diego
W3 @ Oakland
W4 vs Kansas City
Regular Season Schedule
W1 vs Panthers
W2 vs 49ers
W3 @ Buccaneers
W4 @ Cowboys
W5 vs Cardinals
W6 @ Ravens
W7 @ Seahawks
W8 Browns
W9 BYE
W10 @ Saints
W11 @ 49ers
W12 vs Seahawks
W13 vs Falcons
W14 @ Bengals
W15 vs Packers
W16 vs Steelers
W17 @ Cardinals
Rams Draft
R1 - Adam Carriker DE Nebraska
R2 - Brian Leonard RB/FB Rutgers
R3 - Jason Hill WR Washinton State
R3 - Jonathan Wade CB Tennessee
R5 - Dustin Fry C Clemson
R5 - Clifton Ryans DT Michigan State
R6 - Ken Shackleford OT Georgia
R7 - Keith Jackson DT Arkansas
R7 - Derek Stanley UW Whitewater
Player Of the Month
Adam Carriker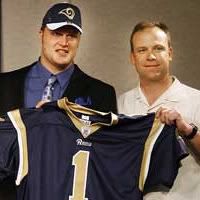 The Rams got their man in the first round of this years draft. Carriker will come in and be an iunstant starter most likely and he will help out on an improving defense.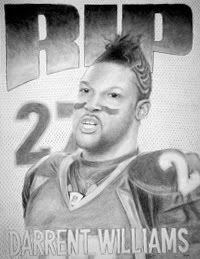 Breaking down the Draft - AFC West
Tuesday, May 08, 2007
Denver Broncos
Who They Took:
1.(17) DE Jarvis Moss, Florida
2.(56) DE Tim Crowder, Texas
3.(70) OT Ryan Harris, Notre Dame
4.(121) DT Marcus Thomas, Florida
Key Team Needs:
1. Defensive end 2. Safety 3. Defensive tackle 4. Offensive line 5. Wide receiver
The Bottom Line:
Denver didn't have a busy day two, but they found a way to fill some of their needs. I like both their first two picks, both DEs. Moss is a great pass rusher and should develop into a great player with his athletic ability. Crowder is not as quick, but still can get the job done. He has been a starter from year one and has been productive every year. He too should develop into a good pro. Harris slipped into early round three and it is a good pick for the Broncos. Like Crowder, Harris has been a starter since his true freshman year. He has the experience and he has the physical tools to play left tackle for a long time in the NFL. The Broncos' last pick came in Moss' defensive line teammate at Florida with Marcus Thomas. Thomas hurt his draft stock when he was suspended during his senior year. If he works on his character, he should develop into a good pro as well. With only four players taken this season, the Broncos still had a really productive draft.
Grade:

B+


Kansas City Chiefs


Who They Took:


1.(23) WR Dwayne Bowe, LSU
2.(54) DE Turk McBride, Tennessee
3.(82) DT Tank Tyler, North Carolina St.
5.(148) RB Kolby Smith, Louisville
5.(160) DE Justin Medlock, UCLA
6.(196) OT Herbert Taylor, TCU
7.(231) TE Michael Allan, Whitworth


Key Team Needs:
1. Offensive line 2. Cornerback 3. Defensive end 4. Wide receiver 5. Defensive tackle


The Bottom Line:
I think Dwayne Bowe has a lot of potential and should develop into a good #1 WR. They wanted help on the D-Line and they got some with Turk and Tank. Both are big bodies that can get in there and make plays. I like the pick of Medlock, even though Kickers aren't needed too bad this year. He has a great leg and probably shouldn't find it too hard to find a starting job. The Chiefs didn't do too much to improve DBs and O-Line.
Grade:
C+


Oakland Raiders


Who They Took:


1.(1) QB JaMarcus Russell, LSU
2.(38) TE Zach Miller, Arizona St
3.(65) DE Quentin Moses, Georgia
3.(91) OT Mario Henderson, Florida St
3.(99) WR Johnnie Lee Higgins, UTEP
4.(100) RB Michael Bush, Louisville
4.(110) CB John Bowie, Cincinnati
5.(138) DE Jay Richardson, Ohio State
5.(165) S Eric Frampton, Washington St.
6.(175) RB Oren O'Neal, Arkansas St.


Key Team Needs:
1. Quarterback 2. Offensive tackle 3. Defensive tackle 4. Wide receiver 5. Tight end


The Bottom Line:
Having the #1 overall pick usually means, you will have a good draft. Well, The Raiders had a great draft. Russell appears to be the best quarterback in the draft, or at least the biggest. He has a rocket arm and he has enough accuracy to get it done. Zach Miller isn't too far behind Greg Olsen, and I think Olsen was a top 10 prospect. Moses could have gone late round one or early round two, but he was a steal early round three. He has great pass rush ability and athleticism to make it at the next level. Getting Michael Bush on day two may have been the best pick of the second day. Bush was dominate during his junior year and was on pace to do it again as a senior, but a broken leg held him back. His only question is his durability, otherwise, he could have been a round one pick. Great Draft for an improving team. Their Defense already is at a competitive level, and their offense may be their now.
Grade:
B+


San Diego Chargers


Who They Took:


1.(30) WR Craig Davis, LSU
2.(37) S Eric Weddle, Utah
3.(96) LB Anthony Waters, Clemson
4.(129) TE Scott Chandler, Iowa
5.(172) WR Legedu Naanee, Boise State
7.(240) LB Brandon Siler, Florida
7.(254) WR Jonathan Holland, Louisiana Tech


Key Team Needs:
1. Safety 2. Wide receiver 3. Offensive tackle 4. Linebacker 5. Nose tackle


The Bottom Line:
The Chargers don't have many needs. The few they had, they filled fairly well. Davis probably was picked a little high, but he still is a good receiver. Weddle was picked high also but his ball skills are tremendous. He totaled 18 interceptions in his four seasons at Utah. At the beginning of the season, I thought Scott Chandler would have gone higher then he actually did. He is a big target, but plays too much like a WR. I like the pick of Siler in round seven. I though Siler could have gone as high as third round. He should have gone higher then the seventh. He has been successful in college and is a born leader. Just an average draft for an above average team.


Grade:


B-
Labels: Denver Broncos, Draft Grades, Dwayne Bowe, JaMarcus Russell, Jarvis Moss, Kansas City Chiefs, Michael Bush, NFL, NFL Draft, Oakland Raiders, San Diego Chargers
posted by Oshiomogho @ 8:59 PM

Photo Of the Month
Randy McMichael
As the first day of OTA passes, We see newly aquired Rams TE Randy McMichael focused on something. Let's hope he is focused on winning.
Previous Post
Archives
Links