NFC West Standings
Rams 0-0
Seahawks 0-0
49ers 0-0
Cardinals 0-0
Preseason Schedule
W1 @ Minnesota
W2 vs San Diego
W3 @ Oakland
W4 vs Kansas City
Regular Season Schedule
W1 vs Panthers
W2 vs 49ers
W3 @ Buccaneers
W4 @ Cowboys
W5 vs Cardinals
W6 @ Ravens
W7 @ Seahawks
W8 Browns
W9 BYE
W10 @ Saints
W11 @ 49ers
W12 vs Seahawks
W13 vs Falcons
W14 @ Bengals
W15 vs Packers
W16 vs Steelers
W17 @ Cardinals
Rams Draft
R1 - Adam Carriker DE Nebraska
R2 - Brian Leonard RB/FB Rutgers
R3 - Jason Hill WR Washinton State
R3 - Jonathan Wade CB Tennessee
R5 - Dustin Fry C Clemson
R5 - Clifton Ryans DT Michigan State
R6 - Ken Shackleford OT Georgia
R7 - Keith Jackson DT Arkansas
R7 - Derek Stanley UW Whitewater
Player Of the Month
Adam Carriker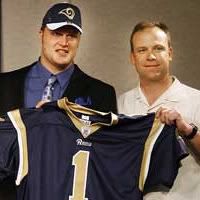 The Rams got their man in the first round of this years draft. Carriker will come in and be an iunstant starter most likely and he will help out on an improving defense.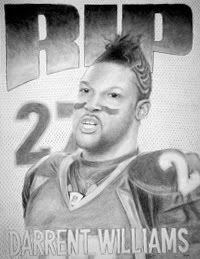 Breaking Down The Draft - AFC South
Monday, May 07, 2007
Houston Texans


Who They Took:


1.(10) DT Amobi Okoye, Louisville
3.(73) WR Jacoby Jones, Lane College
4.(123) CB Fred Bennett, South Carolina
5.(144) S Brandon Harrison, Stanford
5.(163) OT Brandon Frye, Virginia Tech
6.(183) OG Kasey Studdard, Texas
7.(218) LB Zach Diles, Kansas St.


Key Draft Needs:


1. Offensive tackle 2. Cornerback 3. Wide receiver 4. Linebacker 5. Defensive tackle


The Bottom Line:


Scouts had Okoye rising and rising all the way up near the top five. In reality, He is an unknown who probably fell right around where he should have. He's still very young, 19, and no one knows how he will handle the NFL. Jones is another question mark. He comes from a small school so you don't know how he will handle the NFL. He too fell right around projected, but having two guys with questions like that may end up hurting in the long run, or it could really turn out well. I like the pick of Bennett in round four. He has the size and cover skills to match up well in the NFL. I'm not sold on much of the Texans draft as of now not having a round two pick doesn't help.


Grade:


C+

Indianapolis Colts


Who They Took:


1.(32) WR Anthony Gonzalez, Ohio St.
2.(42) OG Tony Ugoh, Arkansas
3.(95) CB Daymeion Hughes, California
4.(98) DT Quinn Pitcock, Ohio St.
4.(131) S Brannon Condren, Troy
4.(136) LB Clint Session, Pittsburgh
7.(242) DE Keyunta Dawson, Texas Tech


Key Draft Needs:


1. Linebacker 2. Cornerback 3. Running back 4. Tight end 5. Defensive line


The Bottom Line:


Although, the Colts didn't really follow their needs, they filled their holes. Gonzalez should turn out to be a great slot receiver behind Harrison and Wayne. He replaces Brandon Stokley. Ugoh was a highly recruited player coming from high school. His choice of Arkansas may have hurt his draft status slightly, but he still is a great player. I really like both picks of Hughes and Pitcock. Both players started the offseason as first round projections, but as things advanced, they fell. Both players have extreme talent when they play to their potential. Both should have good careers in an improving defense. I put the colts in my draft winners category for a reason, they had a great draft.

Grade:

A-
Jacksonville Jaguars


Who They Took:


1.(21) S Reggie Nelson, Florida
2.(48) LB Justin Durant, Hampton
3.(79) WR Mike Walker, Central Florida
4.(101) P Adam Podlesh, Maryland
4.(113) DE Brian Smith, Missouri
5.(149) OG Uche Nwaneri, Purdue
5.(150) S Josh Gattis, Wake Forest
5.(166) DT Derek Landri, Notre Dame
7.(229) WR John Broussard, San Jose St.
7.(251) S Chad Nkang, Elon College
7.(252) OT Andrew Carnahan, Arizona St


Key Draft Needs:


1. Defensive back 2. Wide receiver 3. Quarterback 4. Offensive line 5. Defensive line


The Bottom Line:


The Jags had eleven total picks, eight of which came on day two. Nelson was a good senior season and shouldn't have too much trouble transferring it to the pros this season. He is very athletic and can even play CB if needed. Durant may have gone a little high. He played good in his entire college career, but needs to toughen up some. He could develop into a good pro eventually. The Jags elected to not draft a QB and stick with Leftwich, Garrard and Grey. Other then that, they tried to address their needs.

Grade:

B-
Tennessee Titans


Who They Took:


1.(19) S Michael Griffin, Texas
2.(50) RB Chris Henry, Arizona
3.(80) WR Paul Williams, Fresno St.
4.(115) C Leroy Harris, NC State
4.(128) WR Chris Davis, Florida St.
5.(152) DT Antonio Johnson, Mississippi St.
6.(188) WR Joel Filani, Texas Tech
6.(204) DE Jacob Ford, Central Arkansas
6.(206) CB Ryan Smith, Florida
7.(223) OT Mike Otto, Purdue


Key Draft Needs:


1. Wide receiver 2. Cornerback 3. Running back 4. Defensive tackle 5. Safety


The Bottom Line:


The Titans liked Griffin's physical ability enough to use the 19th pick on him. He's got the talent, he just needs to polish his tackling. Chris Henry is a guy i liked. i wanted him to fall to St. Louis in round three. When he was taken mid round two, I knew that was too high for him. he is good, but not that good. There were lots of better backs available at the time. I like the pick of Chris Davis in round four. He is a good football player, but he never got the chance to shine playing on a week passing team. Overall, not too good of a draft at this time, but nothing too bad either.


Grade:


C+

Labels: Amobi Okoye, Anthony Gonzalez, Draft Grades, Houston Texans, Indianapolis Colts, Jacksonville Jaguars, Michael Griffin, NFL, NFL Draft, Reggie Nelson, Tennessee Titans
posted by Oshiomogho @ 7:39 PM

Photo Of the Month
Randy McMichael
As the first day of OTA passes, We see newly aquired Rams TE Randy McMichael focused on something. Let's hope he is focused on winning.
Previous Post
Archives
Links