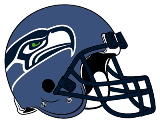 Seattle Seahawks


Who they Took:


2 (55) Josh Wilson, CB - Maryland
3 (85) Brandon Mebane, DT - California
4 (120) Baraka Atkins, DE - Miami FL
4 (124) Mansfield Wrotto, G - Georgia Tech
5 (161) Will Hering, OLB - Auburn
6 (197) Courtney Taylor, WR - Auburn
6 (210) Jordan Kent, WR - Oregon
7 (232) Steve Vallos, G - Wake Forrest


Key Team Needs:


1. Safety 2. Cornerback 3. Defensive end 4. Tight end 5. Offensive line


The Bottom Line:


Drafting without a first round pick automatically puts your team in a handicap. They addressed they need of a CB right away with their round two pick. Wilson is good and he may get right into the action. They also took care of D-Line needs. After getting rid of Darrell Jackson, they took care of WR with two near the later rounds. They had a pretty good draft for their situation.


Grade:


C+




San Fransisco 49ers


Who they Took:


1 (11) Patrick Willis, ILB - Ole Miss
1 (28) Joe Staley, OT - Cental Michigan
3 (76) Jason Hill, WR - Washington State
3 (97) Ray McDonald, DT - Florida
4 (104) Jay Moore, DE - Nebraska
4 (126) Dashon Goldson, FS - Washington
5 (147) Tarrell Brown, CB - Texas
6 (186) Thomas Clayton, RB - Kansas State

Key Team Needs:


1. Wide receiver 2. Defensive end 3. Cornerback 4. Linebacker 5. Safety


The Bottom Line:


Drafting Patrick Willis is nothing to be ashamed of. I believe he was the best linebacker in the draft by far and he will be a dominate player in his career. The trade up to get Joe Staley wasn't really necessary. Sure a good OT is great to have around, but where they got him and where they could have got him was a different story. They solved their need of a WR by trading for Darrell Jackson and still drafted the talented receiver Hill in round three. They helped the D-Line out in the middle rounds. McDonald was a good pickup for the third round. They tried to address the DBs but not until the later rounds. I have no problem in this becasue the players they drafted will contribute well. Good draft for the most part.


Grade:


B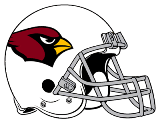 Arizona Cardinals
Who They Took:
1 (5) Levi Brown, OT - Penn State
2 (33) Alan Branch, DT - Michigan
3 (69) Buster Davis, ILB - Florida State
5 (142) Steve Breaston, WR - Michigan
7 (215) Ben Patrick, TE - Deleware
Key Team Needs:
1. Offensive tackle 2. Cornerback 3. Linebacker 4. Safety 5. Running back
The Bottom Line:
Their number one goal was offensive tackle and that's what they wanted to address first. I don't believe Brown was a top five pick, but he wasn't too far behind Thomas, so it wasn't too much of a reach. I really like the pick of Branch in round two. Though it really wasn't a major need, Branch can be agreat talent if he plays hard and stays in shape. He was a top ten or even top five projected player at the beginning of the offseason and his stock kept slipping. The Pick of Davis was good. They needed an LB and Davis can be good if he can can stay in shape also. he isn't the biggest, but he plays tough. Breaston will add in the return game and he may even play some reveiver. His stock may have been higher if he came out last year. They didn't really need a TE, but patrick was sitting on the board for a lot longer then he should have been, and it was a good value pick. After Brown, they didn't really look into their needs.
Grade
B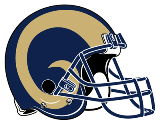 St. Louis Rams
Who They Took:
1 (13) Adam Carriker, DE - Nebraska
2 (52) Brian Leonard, FB/RB - Rutgers
3 (84) Jon Wade, CB - Tennessee
5 (139) Dustin Fry, C - Clemson
5 (154) Clifton Ryan, DT - Michigan State
6 (190) Ken Shackleford, OT - Georgia
7 (248) Keith Jackson, DT - Arkansas
7 (249) Derek Stanley, WR - Wisconsin-Whitewater
Key Team Needs:
1. Defensive end 2. Defensive tackle 3. Cornerback 4. Wide receiver 5. Running back
The Bottom Line:
Carriker was just what they wanted. He is big, strong, pysical and intense.He has ben pretty consistant thoughout his career. Brian Leonard was a wildcard in this years draft. The Rams wanted a RB, and Leonard can play both FB and RB in the NFL. He will be a good power back that can catch out of the backfield. I'm sure that was one of the reasons the Rams used the pick on him. They had the oportunity to take either Darrelle Revis or Leon Hall in round one, but passed on both. Taking Wade in the third round may be a gamble. He is a converted WR that is still learing the position. The picks of Fry and Shackleford add depth to the O-Line that is still one of the better ones in the league. They could have drafted a wide reciever earlier. Dante Hall probably shouldn't be the 4th string, but may end up there. They filled their needs failey well and had a pretty good draft.
Grade:
B-
Labels: Arizona Cardinals, Draft Grades, Draft Needs, NFL, NFL Draft, San Fransisco 49ers, Seattle Seahawks, St. Louis Rams