NFC West Standings
Rams 0-0
Seahawks 0-0
49ers 0-0
Cardinals 0-0
Preseason Schedule
W1 @ Minnesota
W2 vs San Diego
W3 @ Oakland
W4 vs Kansas City
Regular Season Schedule
W1 vs Panthers
W2 vs 49ers
W3 @ Buccaneers
W4 @ Cowboys
W5 vs Cardinals
W6 @ Ravens
W7 @ Seahawks
W8 Browns
W9 BYE
W10 @ Saints
W11 @ 49ers
W12 vs Seahawks
W13 vs Falcons
W14 @ Bengals
W15 vs Packers
W16 vs Steelers
W17 @ Cardinals
Rams Draft
R1 - Adam Carriker DE Nebraska
R2 - Brian Leonard RB/FB Rutgers
R3 - Jason Hill WR Washinton State
R3 - Jonathan Wade CB Tennessee
R5 - Dustin Fry C Clemson
R5 - Clifton Ryans DT Michigan State
R6 - Ken Shackleford OT Georgia
R7 - Keith Jackson DT Arkansas
R7 - Derek Stanley UW Whitewater
Player Of the Month
Adam Carriker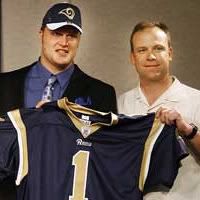 The Rams got their man in the first round of this years draft. Carriker will come in and be an iunstant starter most likely and he will help out on an improving defense.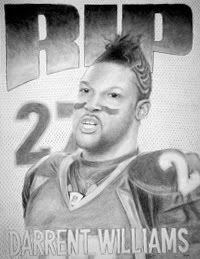 R.I.P. Marquise Hill
Monday, May 28, 2007
After falling off a jet ski late Sunday night, Marquise Hill's body was found around 2:15 this afternoon. Hill is believed to have saved the life of a woman he was accompanied by before getting caught in the lake's current and drifting away. The 6-6/300-pound lineman was only 24.
R.I.P. Marquise Hill
Gone but not forgotten
http://sports.espn.go.com/nfl/news/story?id=2884762
Labels: marquise Hill, NFL
posted by Oshiomogho @ 3:36 PM

Bulger Deal Coming?
Saturday, May 26, 2007
The Rams have gotten good at keepiing their stars off the free agent market in recent years. As the end of Marc Bulgers contract nears, the team's number one priority this season is to give the star quarterback a new contract. Bulger is coming off his best season as a starter.Bulger has been quoted ""I'd love to finish my career here." This is a good sign for Rams fans. It appears a deal is close to being made, but may not come too soon. The sooner the deal gets done, the less Bulger has to worry about the future. If a deal gets done before the season begins or not, Bulger still should put up big numbers playing in St. Louis' high powered offense this year.
As of now, Bulger's backup is Gus Frerotte. Frerotte has 13 years of experience of his own and his career is coming to an end. The team has seen what third string QB, Ryan Fitzpatrick, can bring to the field in 2005 when injuries let him step in. The team may look into a long term backup in the near future for a safety pin in case Bulger gets hurt again.
Labels: Free Agent, Marc Bulger, NFL, St. Louis Rams
posted by Oshiomogho @ 10:14 AM

Rams Bring in Adams
Friday, May 25, 2007
The Rams brought in big 350 lb Sam Adams for a tryout on Thursday. This coming just ten days after Adams was released by Cincinatti. Though no contract was offered, there does appear to be some interest in bringing in Adams to fortify the nose tackle position. Adams does have some injury concerns, but when he is healthy, he can do a great job clogging up the middle.
Labels: Cincinatti Bengals, Free Agent, NFL, Sam Adams, St. Louis Rams
posted by Oshiomogho @ 7:56 PM

Rams Rookie Minicamp Opens Today
Saturday, May 12, 2007
First round pick, Adam Carriker is one of 32 players that will come in St. Louis this weekend for the team's rookie minicamp. The group includes all eight drafted rookies, 20 undrafted free agents and four first-year veterans. Many of the players will get evaluated, hoping to earn a roster spot. For the draft picks, it's a chance to come in get firmiliar with some of the players, coaches, drills, and plays. It's a major learning experience for all players.
Players were fitted for their uniforms friday, and introduced to the playbooks. As players walk into the lockerrooms and see the lockers of players like Torry Holt, Isaac Bruce, and Leonard Little, they are in awe.
"Carriker and many of his new teammates spent Friday playing the part of the awestruck kid. Tennessee cornerback Jonathan Wade said he spent about 10 minutes in front of receiver Torry Holt's locker counting his shoes and looking on in awe. Undrafted defensive end Alton Pettway waxed about being in the locker room once inhabited by Marshall Faulk and having a locker next to Leonard Little. " - Nick Wagoner, St. Louis Rams Senior Writer
Rookie Minicamp info
WHEN: Saturday and Sunday.
WHERE: Rams Park in Earth City.
SCHEDULE: Practices from 10:30 a.m.-12:10 p.m. and 3:35 p.m.-5:05 p.m. both days.
ACCESS: Minicamp is closed to the public.
Labels: Adam Carriker, Isaac Bruce, Jonathan Wade, Leonard Little, Minicamp, NFL, NFL Draft, Rookie, Torry Holt
posted by Oshiomogho @ 1:20 PM

New Rams Rookie Cards to Get Your Hands On
Friday, May 11, 2007
Press Pass Adam Carriker Auto


Press Pass Adam Carriker #47

Press Pass Teammates Adam Carriker/Brandon Jackson #92

Sage Hit Brian Leonard Auto
Sage Hit Brian Leanard Playmakers
Sage Hit Adam Carriker Playmakers
Labels: Adam Carriker, autograph, Brian Leonard, Cards, NFL, Rookie
posted by Oshiomogho @ 8:57 PM

A Look at the Projected Rams Depth Chart Part II
Thursday, May 10, 2007
First Team Primary Backup Backups



DE
James Hall Victor Adeyanju Eric Moore


As of now, this is James Hall spot. Carriker may come in and take it in training camp, but he is listed as a DT now. Adeyanju will see his playing time, but he won't be a starter.



DT
Jimmy Kennedy Adam Carriker Clifton Ryan


Kennedy never played up to his potential, but he still is in a starting role. If Carriker does stay at DT, He will push for the spot.



DT
La'Roi Glover Claude Wroten

Unless Wroten shows the coaches a lot, he won't be starting any time soon, this is La'Roi's spot.

DE
Leonard Little Michael Brown Trevor Johnson


Little is one of the best players to wear the Blue and Gold in the last 10 years. He has been dominate and consistent for the most part. No chance for him to get benched.



OLB
Pisa Tinoisamoa Jon Alston


Pisa is becoming a major part of this defensive unit. Each year he has gotten better. Alston is a good enough athlete to see the field sometime. If the coaches do choose to move him to a safety position, It may allow Bartell to move back to CB. Otherwise, Alston can dominate special

teams.

MLB
Will Witherspoon Chris Draft Tim McGarigle


Witherspoon was a great addition last offseason. He is the centerpiece of this defense and will continue to be. Bringing in Draft is just to add depth and help out on special teams.


OLB
Brandon Chillar Raonall Smith


Chillar started to become a decent starter last season. I think he will improve more this year and become a decent starter.


CB
Fakhir Brown Jerametrius Butler Lenny Walls


The Rams are short of depth at CB. Brown is the start, but it is unsure if Butler will even make the squad.


CB
Tye Hill Mike Rumph Jonathan Wade


Hill is the other starter at CB. Rumph is another guy who may not even make the roster. Wade may get playing time if all plays out right. I think Bartell should move back to CB, and Todd Johnson could fill his spot at backing up Atogwe.



FS
Oshiomogho Atogwe Ron Bartell


Oshiomogho came on strong late last year and will be the starter again this year. He has enough talent to become one of the Leagues better safeties. Bartell is his backup for now, though as i said before, he should play CB.


SS
Corey Chavous Jerome Carter Todd Johnson


Chavous played pretty well last year. He is the starter without much contest. Carter has played well too when he sees the field, but it wont move him to a starter role. Johnson just adds depth at both safety spots.
Labels: Depth Chart, Leonard Little, NFL, St. Louis Rams, Will Witherspoon
posted by Oshiomogho @ 9:05 PM

A Look at the 2007 Rams Projected Depth Chart
Wednesday, May 09, 2007
First Team Primary Backup Backups
QB
Marc Bulger Gus Frerotte Ryan Fitzpatrick Drew Tate
Bulger is the starter, hands down. There is no competition, there won't be for a long time. Most likely, Frerotte will be his backup, and Tate will have to impress the coaches to make the roster.
RB
Steven Jackson Brian Leonard Travis Minor Kay-Jay Harris
Same situation here, Jackson is the starter, hands down. He is emerging as an elite back in this league and has his best years yet to come. Rookie Brian Leonard will probably slip into the second spot on the depth chart due to the lack of talent after Jackson. Leonard will get his carries when Jackson gets tired or injured. Other backs that aren't listed will have a tough time making the active roster.


FB
Madison Hedgecock
Unless a free agent comes in or they move one of their current RBs to FB, this is Hedgecock's job and he is getting better at it. FB really isn't used too much in the Rams offense.
LWR
Torry Holt Drew Bennett Dominique Thompson Willie Ponder
Holt is the man at WR. He will go for another Pro Bowl year, and chances are, he may get it in this offense. Bennett was brought in to help replace Curtis and McDonald. He should be able to do that and more. He can still be a big threat. 5th WR is a battle between a few players. The losers may not make the squad.


RWR
Isaac Bruce Dane Looker Dante' Hall Marques Hagans
Bruce doen't have many years left in him, but he still can be productive and he should put up good numbers. Looker will have to battle Hall for the 4th receiver slot. Hall has never been too much for a WR and his open field skills may not be what the were a few years ago. Hagans will be in the battle for 5th WR
TE
Randy McMichael Joe Klopfenstein Aaron Walker Dominique Byrd
After drafting 2 TEs last year, Linehan brought in Randy McMichael from Miami. McMichael will come in and be another target for Bulger. They may even run more two TE formations, allowing Klopfenstein to get some catches. Walker will battle Bryd for the 3rd TE slot.


ORT
Alex Barron Todd Steussie Kendrick Shackleford
Like most of the Rams offensive positions, This is Barron's spot and he won't lose it. Stuessie played well when he saw the field, but Barron is young and talented. Shackleford is just a rookie trying to learn. He may get his shot in the future.


ORG
Richie Incognito Adam Goldberg


Things get a little interesting now. Incognito can be considered a G or a C. He has a shot at starting at either. If he does play C, Goldberg would move into the starting role.



C
Andy McCollum Brett Romberg Dustin Fry
Depending on what Incognito does, McCollum is the starter. He has been for a while and probably should be.Fry will battle Romberg for a backup role.


OLG
Claude Terrell Mark Setterstrom

Terrell should be the starter here, but there has been talks of Setterstrom slipping into this role.
OLT
Orlando Pace Jeremy Parquet
The Rams anchor is Orlando Pace. If he can stay healthy, the run game will be better, the pass game will be better, and even the defense will be better. He helps everything. he has no chance at losing his starting spot.
DEFENSE COMING TOMARROW
Labels: Depth Chart, Isaac Bruce, Marc Bulger, NFL, orlando pace, Roster, St. Louis Rams, Steven Jackson, Torry Holt
posted by Oshiomogho @ 5:56 PM

Photo Of the Month
Randy McMichael
As the first day of OTA passes, We see newly aquired Rams TE Randy McMichael focused on something. Let's hope he is focused on winning.
Previous Post
Archives
Links