NFC West Standings
Rams 0-0
Seahawks 0-0
49ers 0-0
Cardinals 0-0
Preseason Schedule
W1 @ Minnesota
W2 vs San Diego
W3 @ Oakland
W4 vs Kansas City
Regular Season Schedule
W1 vs Panthers
W2 vs 49ers
W3 @ Buccaneers
W4 @ Cowboys
W5 vs Cardinals
W6 @ Ravens
W7 @ Seahawks
W8 Browns
W9 BYE
W10 @ Saints
W11 @ 49ers
W12 vs Seahawks
W13 vs Falcons
W14 @ Bengals
W15 vs Packers
W16 vs Steelers
W17 @ Cardinals
Rams Draft
R1 - Adam Carriker DE Nebraska
R2 - Brian Leonard RB/FB Rutgers
R3 - Jason Hill WR Washinton State
R3 - Jonathan Wade CB Tennessee
R5 - Dustin Fry C Clemson
R5 - Clifton Ryans DT Michigan State
R6 - Ken Shackleford OT Georgia
R7 - Keith Jackson DT Arkansas
R7 - Derek Stanley UW Whitewater
Player Of the Month
Adam Carriker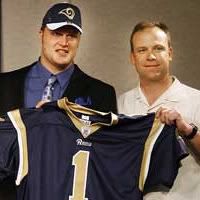 The Rams got their man in the first round of this years draft. Carriker will come in and be an iunstant starter most likely and he will help out on an improving defense.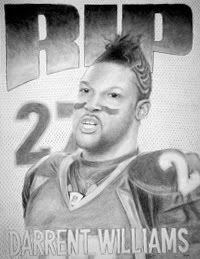 Breaking Down The Draft - AFC North
Sunday, May 06, 2007
Baltimore Ravens


Who They Took:


1.(29) OG Ben Grubbs, Auburn
3.(74) WR Yamon Figurs, Kansas St.
3.(86) OT Marshall Yanda, Iowa
4.(134) LB Antwan Barnes, Florida International
4.(137) FB Le'Ron McClain, Alabama
6.(207) LB Prescott Burgess, Michigan


Key Team Needs:
1. Offensive line 2. Linebacker 3. Running back 4. Cornerback 5. Defensive tackle


They Bottom Line:
Baltimore has a very solid team. They addressed offensive line right away with Grubbs, who should turn out to be a great player. After not picking in round two, they made a surprising pick with Yamon Figurs. Figurs is talented, but his main role may be a return man. Normally, you don't use a third round pick on a return man. I like the pick of Burgess in round seven. He may turn out to be their next Adalius Thomas type player. He is very athletic and can play LB or S if needed. For what they had and what they needed, this was an average draft.
Grade:
C+


Cincinatti Bengals


Who They Took:


1.(18) CB Leon Hall, Michigan
2.(49) RB Kenny Irons, Auburn
4.(114) S Marvin White, TCU
5.(151) QB Jeff Rowe, Nevada
6.(187) DT Matt Toeaina, Oregon
7.(230) OG Dan Santucci, Notre Dame
7.(253) S Nedu Ndukwe, Notre Dame


Key Team Needs:
1. Cornerback 2. Tight end 3. Defensive tackle 4. Saftey 5. Guard/Center


They Bottom Line:
The Bengals got a gift when Leon Hall slipped to 18. Hall could be considered the top CB in the draft and could have gone in the top ten. THe Bengals needed defensive back help and Hall will help. I like Kenny Irons, but I don't really know if this was the best pick for the bengals in the second round. Their was still a lot of good players availible and running back isn't that high of a need. They must not have too much confidence in Chris Perry. Other then those two players, a pretty basic draft, nothing that stands out to me.
Grade:
C+


Cleveland Browns


Who They Took:


1.(3) OT Joe Thomas, Wisconsin
1.(22) QB Brady Quinn, Notre Dame
2.(53) CB Eric Wright, UNLV
5.(140) CB Brandon McDonald, Memphis
6.(200) DE Melila Purcell, Hawaii
7.(213) DE Chase Pittman, LSU
7.(234) WR Syndric Steptoe, Arizona


Key Team Needs:
1. Cornerback 2. Offensive tackle 3. Wide receiver 4. Nose tackle 5. Quarterback


They Bottom Line:
The Browns may have had the best first day of this years draft, but their day two wasn't nearly as good. Obviously, fans have heard plenty obout Thomas, the dominating tackle from Wisconsin, and Quinn, the golden boy who slipped down to his hometown team. Eric Wright has the talent level, but his experience and off the field issues may hurt his career. After transfering away from USC after only one season from suspicion of rape, Wright only played one year at UNLV before declaring for the draft. If he keeps his record clean and plays to his potential, cleveland should have 3 players to build a great team off of. I like the pick of Chase Johnson in the seventh round. He has good size and uses his hands well. The Browns were a perfect fit for him. This years draft doesn't reflect that they will not have a 2008 first round pick, but on paper, this class looks good.


Grade:
B+


Pittsburgh Steelers
Who They Took:
1.(15) LB Lawrence Timmons, Florida St.
2.(46) DE LaMarr Woodley, Michigan
3.(77) TE Matt Spaeth, Minnesota
4.(112) P Daniel Sepulveda, Baylor
4.(132) DE Ryan McBean, Oklahoma St.
5.(156) OG Cameron Stephenson, Rutgers
5.(170) CB William Gay, Louisville
7.(227) WR Dallas Baker, Florida


Key Team Needs:
1. Linebacker 2. Cornerback 3. Running back 4. Defensive line 5. Center/Guard


They Bottom Line:
Lawrence Timmons should turn into a great player in the pros. It shouldn't take long for him to come in, learn the system, and dominate the league. Woodley is an interesting pick in the second round. There were a lot of ends off the boards by this time. Woodley is athletic enough to play DE or OLB. He may not contribute as early as Timmons, but should put up decent numbers during his career. I like the pick of Dallas Baker in round seven. Baker has improved every year through college. He probably could have gone early day two, but his speed didn't wow anyone. He may slip into playing time and get a good number of catches as a rookie. The Steelers took care of the need at LB and DE, but didn't do too much else to improve right now.


Grade:


B-
Labels: Baltimore Ravens, Brady Quinn, Cincinatti Bengals, Cleveland Browns, Draft Grades, Joe Thomas, Lawrence Timmons, Leon Hall, NFL, NFL Draft, Pittsburgh Steelers
posted by Oshiomogho @ 5:46 PM

Photo Of the Month
Randy McMichael
As the first day of OTA passes, We see newly aquired Rams TE Randy McMichael focused on something. Let's hope he is focused on winning.
Previous Post
Archives
Links