NFC West Standings
Rams 0-0
Seahawks 0-0
49ers 0-0
Cardinals 0-0
Preseason Schedule
W1 @ Minnesota
W2 vs San Diego
W3 @ Oakland
W4 vs Kansas City
Regular Season Schedule
W1 vs Panthers
W2 vs 49ers
W3 @ Buccaneers
W4 @ Cowboys
W5 vs Cardinals
W6 @ Ravens
W7 @ Seahawks
W8 Browns
W9 BYE
W10 @ Saints
W11 @ 49ers
W12 vs Seahawks
W13 vs Falcons
W14 @ Bengals
W15 vs Packers
W16 vs Steelers
W17 @ Cardinals
Rams Draft
R1 - Adam Carriker DE Nebraska
R2 - Brian Leonard RB/FB Rutgers
R3 - Jason Hill WR Washinton State
R3 - Jonathan Wade CB Tennessee
R5 - Dustin Fry C Clemson
R5 - Clifton Ryans DT Michigan State
R6 - Ken Shackleford OT Georgia
R7 - Keith Jackson DT Arkansas
R7 - Derek Stanley UW Whitewater
Player Of the Month
Adam Carriker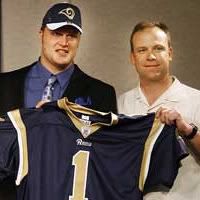 The Rams got their man in the first round of this years draft. Carriker will come in and be an iunstant starter most likely and he will help out on an improving defense.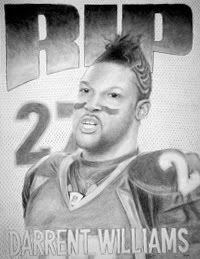 Wednesday, April 18, 2007
Walker Signs

The Rams are fianlly stacked with telent at the TE position this season. Back in the Mike Martz days, the offense hadly used a TE, and when they did, he usually just tried to block. One of the first things on Scott Linehan's mind when he arived in St. Louis was to upgrade and use the TEs. One of the first things he did was trade away then starting TE, Brandan Manumaleuna on draft day to the Chargers. He then selected two TEs ion the Draft, Joe Klopfenstein and Dominique Byrd. Then this offseason, when the oportunity came up of signing a talented TE, the Rams took it by signing Randy McMicheal from the Dolphins. With so much depth, where does this leave Aaron Walker? Well, Walker player well last season when he saw the field and Linehan noticed this. Though Walker will have to battle for playing time, he should get some. He realizes his situation and decided to sign his one-year, $850,000 tender offer with the club today. Though his future is unsure, he should try and make the most out off his situation this season.
Next restricted free agent that needs to resign is Brandon Chiller. That deal should be worked out in the near future
Labels: Aaron Walker, Free Agent, Tigh Ends, Transactions
posted by Oshiomogho @ 8:36 PM

Photo Of the Month
Randy McMichael
As the first day of OTA passes, We see newly aquired Rams TE Randy McMichael focused on something. Let's hope he is focused on winning.
Previous Post
Archives
Links