NFC West Standings
Rams 0-0
Seahawks 0-0
49ers 0-0
Cardinals 0-0
Preseason Schedule
W1 @ Minnesota
W2 vs San Diego
W3 @ Oakland
W4 vs Kansas City
Regular Season Schedule
W1 vs Panthers
W2 vs 49ers
W3 @ Buccaneers
W4 @ Cowboys
W5 vs Cardinals
W6 @ Ravens
W7 @ Seahawks
W8 Browns
W9 BYE
W10 @ Saints
W11 @ 49ers
W12 vs Seahawks
W13 vs Falcons
W14 @ Bengals
W15 vs Packers
W16 vs Steelers
W17 @ Cardinals
Rams Draft
R1 - Adam Carriker DE Nebraska
R2 - Brian Leonard RB/FB Rutgers
R3 - Jason Hill WR Washinton State
R3 - Jonathan Wade CB Tennessee
R5 - Dustin Fry C Clemson
R5 - Clifton Ryans DT Michigan State
R6 - Ken Shackleford OT Georgia
R7 - Keith Jackson DT Arkansas
R7 - Derek Stanley UW Whitewater
Player Of the Month
Adam Carriker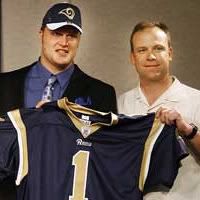 The Rams got their man in the first round of this years draft. Carriker will come in and be an iunstant starter most likely and he will help out on an improving defense.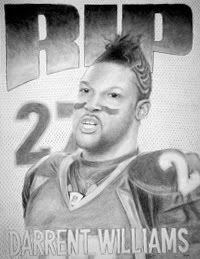 Tuesday, April 10, 2007
Official Rams Pre-draft Visits

OFFENSE
Quarterback (1)
Isaiah Stanback, Washington
Running backs (4)
Chris Henry, Arizona
Tony Hunt, Penn State
Brian Leonard, Rutgers
Antonio Pittman, Ohio State
Wide receivers (8)
Aundrae Allison, East Carolina
Chris Davis, Florida State
Yamon Figurs, Kansas State
Jason Hill, Washington State
Jacoby Jones, Lane (Tenn.)
Robert Meachem, Tennessee
Ryne Robinson, Miami (Ohio)
Mike Walker, Central Florida
Line (3)
Justin Blalock, Texas
Arron Sears, Tennessee
Joe Staley, Central Michigan

DEFENSE
Ends (5)
Jamaal Anderson, Arkansas
Adam Carriker, Nebraska
Tim Crowder, Texas
Brian Robison, Texas
Anthony Spencer, Purdue
Tackles (2)
Justin Harrell, Tennessee
Derek Landri, Notre Dame
Linebackers (2)
Justin Durant, Hampton
Anthony Waters, Clemson
Secondary (4)
Chris Houston, Arkansas
Brandon Meriweather, Miami (Fla.)
Darrelle Revis, Pittsburgh
Josh Wilson, Maryland


Its obvious the focus is on WR and DE just as most people expected. With only 3 known WR that have made the roster, this may be a good situation for a rookie to come in and contribute and learn from some of the best. The Rams did trade for James Hall, but it doesnt mean there search for a DE is over. With Leonard Little getting older and Halls productivity unknown, a DE wouldnt be a bad option. The Rams are always looking to upgrade themselves in the defensive backfield. With Jeremetrius Butler appearing to be on his way out, a corner may be a good option somewhere in the draft. Steven Jackson is going to need someone to take some of the carries. If the Rams do aquire Corey Dillon in free agency, RB may not be a point of interest, but until then, it is. With less then three weeks until draft day, the rams have time to evaluate further and make the best picks.
posted by Oshiomogho @ 8:13 PM

Photo Of the Month
Randy McMichael
As the first day of OTA passes, We see newly aquired Rams TE Randy McMichael focused on something. Let's hope he is focused on winning.
Previous Post
Archives
Links