NFC West Standings
Rams 0-0
Seahawks 0-0
49ers 0-0
Cardinals 0-0
Preseason Schedule
W1 @ Minnesota
W2 vs San Diego
W3 @ Oakland
W4 vs Kansas City
Regular Season Schedule
W1 vs Panthers
W2 vs 49ers
W3 @ Buccaneers
W4 @ Cowboys
W5 vs Cardinals
W6 @ Ravens
W7 @ Seahawks
W8 Browns
W9 BYE
W10 @ Saints
W11 @ 49ers
W12 vs Seahawks
W13 vs Falcons
W14 @ Bengals
W15 vs Packers
W16 vs Steelers
W17 @ Cardinals
Rams Draft
R1 - Adam Carriker DE Nebraska
R2 - Brian Leonard RB/FB Rutgers
R3 - Jason Hill WR Washinton State
R3 - Jonathan Wade CB Tennessee
R5 - Dustin Fry C Clemson
R5 - Clifton Ryans DT Michigan State
R6 - Ken Shackleford OT Georgia
R7 - Keith Jackson DT Arkansas
R7 - Derek Stanley UW Whitewater
Player Of the Month
Adam Carriker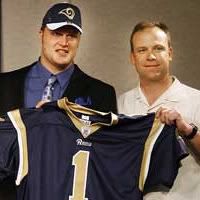 The Rams got their man in the first round of this years draft. Carriker will come in and be an iunstant starter most likely and he will help out on an improving defense.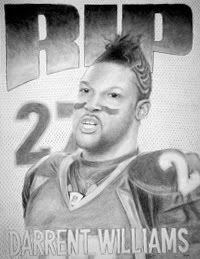 Sunday, April 08, 2007

Life as a Ram
Oshiomogho

Atogwe

was the Rams' third round draft selection in the 2005 NFL Draft, 66

th

overall.

Atogwe

wasn't a starter right away. Late in the 2005 season, the Rams chance a a playoff birth was eliminated and

Atogwe

got some playing time. He used it to his advantage and impressed the coaching staff. In the little time he played during his rookie year,

Atogwe

totaled only 12 tackles, one and a half of which were sacks, and 1 interception, which he returned for 42 yards. The interception, the first of his young career, came in the 4

th

quarter of the week 17 win at Dallas.

Atogwe

impressed the coaches enough to earn a starting role for the start of the 2006 season.
During the 2006 season,

Atogwe

totaled 75 tackles, 1 sack, and 3 interceptions. His three

interceptions

came during weeks 4, 5, and 12 against Detroit, Arizona, and San Francisco.
Atogwe

will go into the 2007 season as the starter at the free safety position.
Atogwe

attended Stanford University. Coming from Canada in 2000, he was an unknown. He became one of the top players on the squad. In his first year of starting back in 2002,

Atogwe

led the Cardinals in tackles while playing the strong safety position. For the 2003 season, he made the transition to free safety and repeated as the team's leading tackler. He also led the

Pac

-10 in forced fumbles with six during that year. After his junior year,

Atogwe

passed up on the decision to go pro. He elected to stay back in college for his 5

th

year. Again, during his senior year at

Stanford

,

Atogwe

lead the team in tackles. In his entire college career,

Atogwe

totaled 241 tackles in 44 games. He recorded one sack and nine interceptions. He majored in Science.
One thing many people didn't know about

Atogwe

is he was also a member of the Cardinals track team in 2001 and 2002. He competed in sprints and jumps. In 2002, he posted a 22-foot-10 inch in the long jump and 43-foot-4 inch in the triple jump.
Atogwe

was one of Canada's

premiere

prospects. he attended W.F. Herman Secondary School. A two year starter at running back and

cornerback

, he was named the league's defensive MVP in 1999 and was all-city running back. Also he was an All-Canadian team. He competed in Ontario

Varsity

Football League during the summers. He competed in four different sports during his high school years; football, basketball, soccer, and track.
Personal Info
Born

Oshiomogho

Isaac

Atogwe

in Windsor, Ontario, Canada. His name is pronounced OH-shim-ago uh-TOG-way. His parents are of Nigerian descent. He currently lives in St. Charles, Mo.
Atogwe

is a young, talented player. He has hardly even begun to show his potential. In the upcoming years, he will only improve. He will become a

play maker

and one of the most valuable members to the Ram's defensive squad. Ever since the Rams didn't resign Adam

Archuleta

,

Atogwe

has become my favorite Ram.
Labels: Oshiomogho Atogwe, Player Profiles
posted by Oshiomogho @ 6:26 PM

Photo Of the Month
Randy McMichael
As the first day of OTA passes, We see newly aquired Rams TE Randy McMichael focused on something. Let's hope he is focused on winning.
Previous Post
Archives
Links