NFC West Standings
Rams 0-0
Seahawks 0-0
49ers 0-0
Cardinals 0-0
Preseason Schedule
W1 @ Minnesota
W2 vs San Diego
W3 @ Oakland
W4 vs Kansas City
Regular Season Schedule
W1 vs Panthers
W2 vs 49ers
W3 @ Buccaneers
W4 @ Cowboys
W5 vs Cardinals
W6 @ Ravens
W7 @ Seahawks
W8 Browns
W9 BYE
W10 @ Saints
W11 @ 49ers
W12 vs Seahawks
W13 vs Falcons
W14 @ Bengals
W15 vs Packers
W16 vs Steelers
W17 @ Cardinals
Rams Draft
R1 - Adam Carriker DE Nebraska
R2 - Brian Leonard RB/FB Rutgers
R3 - Jason Hill WR Washinton State
R3 - Jonathan Wade CB Tennessee
R5 - Dustin Fry C Clemson
R5 - Clifton Ryans DT Michigan State
R6 - Ken Shackleford OT Georgia
R7 - Keith Jackson DT Arkansas
R7 - Derek Stanley UW Whitewater
Player Of the Month
Adam Carriker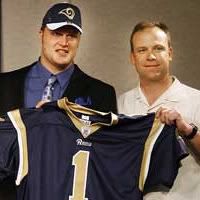 The Rams got their man in the first round of this years draft. Carriker will come in and be an iunstant starter most likely and he will help out on an improving defense.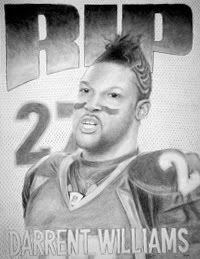 Friday, April 20, 2007
Yahoo's Big Board
Analysis

For starters here is the top 5

Rank Player Stock
1
LaDainian Tomlinson
, SD, RB
Turner knows how to keep the rock rollin' on ground
2
Larry Johnson
, KC, RB
KC wants to use Bennett more to ease LJ's load
3
Steven Jackson
, StL, RB
McMichael, Bennett adds may drop his catches a bit
4
Shaun Alexander
, Sea, RB
15+ TDs still very likely in this offense if healthy
5
Frank Gore
, SF, RB
'07 goal is breaking Eric Dickerson's rushing record

Obviously Jackson is expected to put up big numbers. Being ranked behind only LaDainian Tomlinson and Larry Johnson should be a huge honor. Plus, he is the highest ranked NFC player in the entire league. If he can put up the numbers that people expect, then the Rams may be looking at a playoff birth.

Other Rams on the list
19
Torry Holt
, StL, WR
McMichael, Bennett additions means a lil' more sharing
41
Marc Bulger
, StL, QB
Loaded: S-Jax, Holt, McMichael, Bruce, D. Bennett

it's true, the Rams are "loaded" Bulger should be a good guy to have this season. Though there may be more "sharing," don't expect Torry Holt's numbers to diminish very much. He will find a way to get well over 1,000 yards and about 100 catches.
Labels: Fantasy News, Frank Gore, LaDainian Tomlinson, Larry Johnson, Marc Bulger, NFL, Shaun Alexander, St. Louis Rams, Steven Jackson, Torry Holt, yahoo
posted by Oshiomogho @ 10:00 PM

Photo Of the Month
Randy McMichael
As the first day of OTA passes, We see newly aquired Rams TE Randy McMichael focused on something. Let's hope he is focused on winning.
Previous Post
Archives
Links